It takes a village to raise a child. Yes. And it sometimes takes a group of outside caring people to support that village to raise that child!
Working with a Maasai Village in Tanzania
A wonderful community of people, many from Victoria, British Columbia, comprises such a caring group. And the village, which is situated in Tanzania on Maasai tribal land, now has a school, fresh water and great hope for the future!
A few years ago, Bob and Karen Schrey, from Victoria, were on holiday in Africa. They'd taken along a bunch of kids' sports equipment and asked their safari leader, Clamian Kitesho, if he knew of kids who could benefit. He responded with,"I'll take you to my ancestral village." In that moment, little did they know that Destiny was in the works!
Shocked at the poverty, Bob and Karen returned home and suggested an outreach project to their spiritual community: "How about if we join forces with these people and support them to move forward with their lives?" Due to Bob and Karen Schrey's initial vision, we have successfully fund-raised for this Maasai village to:
Buy a brick maker to build their own school
Buy student uniforms and supplies, school furniture, books, etc.
Attract dedicated, qualified Maasai teachers to come to this remote area
Criteria for Student Admission
Children from the local area
More girls than boys
Children from the least advantaged families
Here's a wonderful video to give you a real sense of the ongoing commitment we've taken on, one that is succeeding in contrast to other groups' projects elsewhere. (Watch this video and see why.) It's an exciting business, this assisting Maasai folk to create a sustainable future for themselves, one with far reaching implications!
Sticks to Bricks to Textbooks
What Now?
The school is growing and needs an addition. I and others from Victoria will be heading to Tanzania within two days to assist with this construction and with other things. I might find myself in the classroom, given I'm a retired teacher. No problem language-wise considering that, in addition to the local language, instruction is given in English. Talk about opening doors of opportunity for these kids in a country that counts on tourist revenue!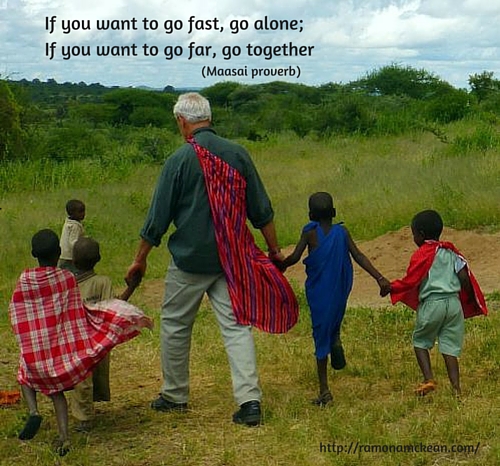 Work and Fun in Tanzania
The villagers, I hear, are awaiting our arrival with great anticipation. Yes, we'll work, but there's lots of Maasai hospitality in store for us! Not only that, most of us will stay longer to visit the Ngorongoro Crater and travel on wildlife safaris in Tarangire and Serengeti National Parks. Apparently it will be the time of the "Great Migration," so extra exciting!
Zanzibar
I will stay longer still. I figure if I'm going to go all the way to east Africa, I'd better visit the beautiful little Spice Island called Zanzibar, just off the coast of Tanzania. Lots of history, I hear, plus some of the most gorgeous beaches anywhere!
In Conclusion
100% of volunteers' contributions go directly to the community project. If you'd like to come on a future trip or make a financial contribution, please contact Georgiana Graham at georgiana_graham@abilitysociety.org or call
1(403) 262-9445 ext. 0.
Now here's a short video (2 1/2 minutes) that's full of information. Not only that. It reveals the epitome of cute! ENJOY.
Maasai Friends 4 Good
I invite you to leave comments or questions below. Please do! And check the box to receive followup comments to receive my reply. 🙂